Recently, a
Breaking Bad
fan who regularly follows this Blog asked me this question:
"
How do your neighbors and especially you feel about the impression of NM the show has burned into the minds of the rest of the world?"
I and my neighbors live near
Albuquerque
, New Mexico which is portrayed in the
AMC series
with images of coarseness and violence. Since I often talk about and upload beautiful images of New Mexico, he wondered what the truth is about my adopted home.
Of course, Breaking Bad's story is fictional. There really isn't a Walter White or "Heisenberg" living here, despite the obituary that ran in today's
Albuquerque Journal
.
I think the majority of us living here really enjoyed seeing our state portrayed in the series. The series being filmed here certainly has brought
a lot of new tourist traffic and boosted our depressed economy
. With
Albuquerque
as the back drop for Breaking Bad (BrBa) for the past 5+ years, the popular show has brought attention to New Mexico's largest city. For many travelers, it is now a "destination" rather than someplace to pass through going east or west on
I-40
. With the show's growing popularity, a lot of people in
Burque
began to embrace the attention and tourist dollars it brought. The Albuquerque Convention and Visitors Bureau even has
a website with a map of Breaking Bad locations
.
We know that BrBa could have been filmed in just about any city because, unfortunately, the epidemic of
"meth"
is everywhere. Here in New Mexico it is a serious problem, especially among young people in the
Navajo Nation
and
other Indian communities
, and within poorer and rural communities.
I do think BrBa
accurately portrays a lot of Albuquerque
which is a grittier working class city that proudly separates itself from the uber-wealthy and somewhat snooty
Santa Fe
. When I first arrived from
San Diego, California
, Abuquerque was something of a cultural shock and is for a lot of people from "prettier" places. I was initially headed for
Taos
, a much more more romantic and idyllic New Mexico scene, but it had become the home of a lot of wealthy celebrities (from
Julia Roberts
to
Donald Rumsfeld
) and the real estate prices were too high for me. I ended up buying a home in the
mountains east of Albuquerque
, sometimes called the
greenside
of Albuquerque as opposed to the
brownside
on the west-facing
Sandia Mountains
and foothills. I was in a peaceful, natural environment with pines and junipers around me but I could be in the big city in less than 30 minutes if I needed movies, shopping, museums, the NY Times, restaurants or
an international airport
.
At first I was put off by a lot of down and out looking neighborhoods and shabby shopping strip malls in Albuquerque, especially along
Central Ave
(Old Route 66). There is
violent crime in some neighborhoods
and it isn't pretty. But the positives of Albuquerque outweigh these elements (which afterall are typical of many large cities). The city is surrounded by beautiful high desert mesas and canyons, foothills and tall mountains,
volcanic cones
and lava flows, giving one a feeling of the natural environment all around you. The skies are clear blue with huge white clouds towering over the broad vistas. The weather is mild with four seasons. The colors of the earth here are stunning and reflected in the colors of the homes and landscaping adapted to this arid environment. The
Rio Grande
remains a
wild river in the northern part of the state
where white water rafting and kayaking are popular. Although diminished in size by the time it reaches Albuquerque, the Rio Grande retains a natural state as it transects the city's east and west sides. A thick band of cottonwood trees called the
Bosque
, changing from green to yellow to brown with changes of the season, anchors the community. Hiking and biking trails, a
botanical park
,
fishing ponds
, and
a nature center
are found on each side of the Rio Grande. Check out Leo York's
27 Photographic Reasons To Love Albuquerque
on his
Inhabitants of Burque Blog
to see some great pictures of Abuquerque.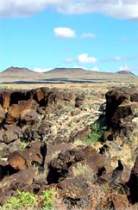 The volcanos and lava flow on the west side
The foothills on the east side
Cane Cholla Cactus blooming along a foothill trail
The
Albuquerque International Balloon Fiesta
each October brings tens of thousands of visitors and hundreds of hot air balloons from around the world. This year there is a Ballooning Bad pin (it sold out immediately but more will arrive Thursday, Oct. 10th at the Balloon Fiesta Park).
People love the outdoors here and are outside 365 days of the year. There is a
ski resort that can be reached by a tram
in northeast Albuquerque so that you can be skiing or snowboarding within 30 minutes of boarding the gondola. Toward the west when the sun sets, Albuquerque has a fantastic flat horizon with such dry, crystal clear skies, that there is a luminescence that causes a wonderful energy to flow throughout the area.
The culture here is very diversified, open, casual, and friendly.
Residents of Albuquerque
are extremely tolerant here and the culture is a mix-up of artsy, bohemian, working class, cowboy, Native American, Spanish, nerdy, and Mexican. After living here for a while, I began to really enjoy the "realness" of this city and this state and now feel very uncomfortable in the big congested cities like San Diego, Los Angeles or NYC. The
size of Albuquerque
(nearly 600,000 and the metro area has almost a million people - half the state's population) is "just right" for a city and it's easy to get around.
Public art
is everywhere along it's freeways and streets and it's airport.
Prices of real estate are quite modest
(the median price of a single family home in Albuquerque is $182,000) and the
cost of living is low
here. The city has a major public university (the
University of New Mexico
), a wonderful
orchestra
, and
more than 40 theater organizations
. Just an hour to the north, Santa Fe boasts the
world-class Santa Fe Opera
in a gorgeous
semi-open amphitheater
where "tail-gating" is an entirely different and unique experience (even the rain doesn't dampen spirits):
The economy is mainly based on government spending (
Los Alamos Lab
and
Sandia National Labs
,
Kirtland AFB
), oil and natural gas production, mining, farming, ranching and dairies, the arts and tourism.
Intel
has a manufacturing plant in nearby
Rio Rancho
just to the north of Albuquerque.
The film industry
has recently blossomed and employs thousands of New Mexicans in all aspects of film-making. During
Gov. Bill Richardson's
term, New Mexico began to offer a
25% tax incentive
for film productions made here in New Mexico. An avalanche of movies and TV shows began to use New Mexico for production, including Breaking Bad in 2008. We now have three major production studios in New Mexico:
Albuquerque Studios
,
I-25 Studios
, and
Santa Fe Studios
.
There are still things that I don't like: the lack of a good work ethic in the workforce, the high number of DWI's and a drinking culture that is very strong here, the poor schools, political corruption, the extreme poverty of about 30% of the population, the domestic abuse and high drug addiction rates...these are the dirty secrets of Albuquerque and New Mexico. So, I don't mind that BrBa portrayed some of the grittier aspects of NM, they are quite real, a bright light should shine on the negative aspects to get us to pay attention and do something about them.
There are some beautiful landscapes in this state. Artists and writers like
Georgia O'Keeffe
,
D.H. Lawrence
, and
RC Gorman
, all interred in New Mexico, made their mark in this land and the land left them changed forever. There is an energy and creativity in this land that draws spiritual and artistic souls. It has a long history of human settlement going back thousands of years with
Puebloan people
who built stone homes throughout this land that can be visited today, including the mysterious
Chaco Canyon
. The Spanish first established the city of
Santa Fe
in 1607. Today, Santa Fe is the oldest capital city in the United States and it is the second largest
art market
in the United States.
I hope you will come to New Mexico and see that it is a beautiful state with so much to see and do. Relax and enjoy a feast to your 5 senses.
Here's a video of the scenic High Road to Taos:
Balloons over the West Mesa of Albuquerque
The unusal formations at Tent Rocks
View of Albuquerque from Sandia Peak at 10,600 ft. elevation
Wintertime in the Sandia Mountains